Naturally Fresh: The Best Cat Litter for Odor Control
When it comes to litter box odor control, walnut shells don't usually spring to mind. Naturally Fresh is changing that. If you've ever wondered how to neutralize ammonia in cat litter the fresh and natural way, look no further than our eco-friendly formulas.
Cat litter smell? Try walnut shells.
Perfumes. Air fresheners. Scented candles. Walnuts? Of all the things that eliminate odors, walnuts aren't usually on anyone's list. But they're at the top of ours at Naturally Fresh. Why? Walnut shells have the organic ability to neutralize odors, particularly ammonia. And because of our dedication to eco-friendly practices and sustainability, walnut shells were the obvious choice for the star ingredient of our natural cat litter. At our solar-powered facility, we transform a food byproduct from would-be waste into walnut shell cat litter. It's all so pet parents can give their cat kids a biodegradable product that's healthy for them and the planet — and conveniently doubles as the best cat litter for odor control.
How does Naturally Fresh compare to the environmentally friendly cat litter competition?
You love your cat kid and want to give him the best of everything. You also don't want to deal with cat litter smell. So how do you find the best cat litter for odor that's also the best natural cat litter? While corn cat litter, wheat cat litter, and pine pellet cat litter provide a healthier alternative to clay-based cat litter, none of them have the organic odor control that walnut shells provide. For example, our non-clumping pellet litter has up to seven times the odor control of the leading non-clumping pellet litters, making it the best non-clumping cat litter for odor control.
Cat litter odor? Find the right Naturally Fresh formula (there are six!) for your interspecies family.
What's that smell? Not your litter box if it's filled with Naturally Fresh. While walnut shells organically neutralize odors, some of our formulas also contain natural boosts that further eliminate smells, no matter how many cat kids you have. Our Multi-Cat formula includes a special counteractant that tackles all multi-cat litter box smells, and our Ultra Odor Control formula comes with a moisture-activated probiotic that eliminates all odors quickly. If you prefer a fresh-smelling litter box, our Alpine Meadow Scent® formula has a perfume-free, natural scent courtesy of herbs and botanicals. If your cat kids do better with an unscented non-clumping cat litter, stock up on our pellet litter , which boasts major odor control and works for all small pet children, including rabbits, ferrets, and gerbils.
➡️ Take the Naturally Fresh quiz to find the right odor-free formula for your cat kid
➡️ Found it? Now shop our retailers
Best odor control cat litter? Ask these pet parents.
If you're new to Naturally Fresh, it helps to hear from other pet parents who've switched to our all-natural cat litter for many reasons, one of which is because it's the best odor control litter they've found.
"I was super skeptical about it because I'm not trying to smell cat pee all the time," shares Jessica Clifton , a Naturally Fresh partner and Instagram influencer dedicated to sustainable living. "But Naturally Fresh Cat Litter still fights odor like a champ while caring for the planet at the same time. It's made from walnut shells for organic odor control and I can't believe that it actually works!"
Jess Thoren at KittenBnB in Hoboken, N.J., is another Naturally Fresh partner who frequently shares why she loves our litter — in between adorable posts of adoptable kittens. "One of my biggest fears when I first started fostering was having an apartment that smelled. Thankfully I found Naturally Fresh Cat Litter and my apartment never smells! Seriously, we've had so many guests here and they are always shocked by the lack of smell."
The next time you wonder what to do if your cat litter box smells like ammonia, or you ask yourself, "What is the best cat litter for odor control?" you have your answer: Naturally Fresh.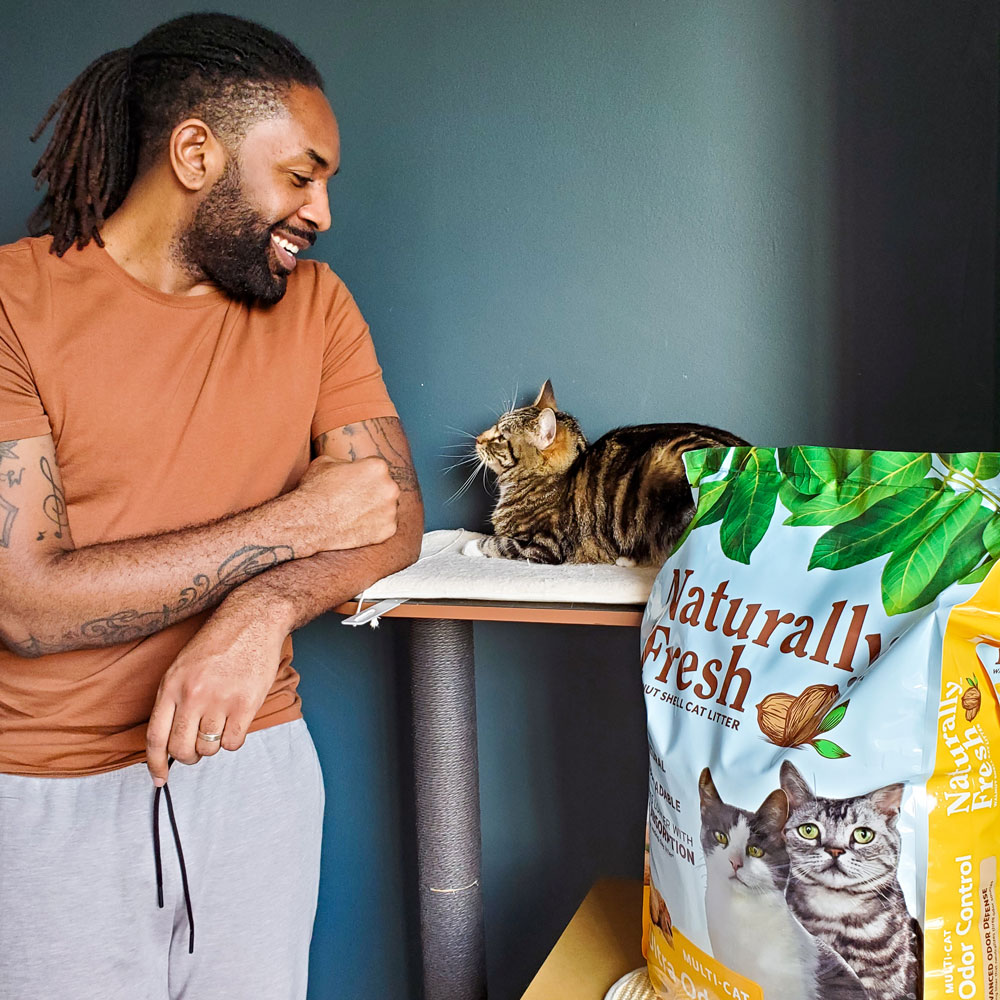 ---
More Stuff You'll Love
Naturally Fresh Proves Environmental Impact of Walnut Shell Litter
In collaboration with the Pet Sustainability Coalition (PSC), a peer-reviewed Life Cycle Analysis (LCA) study was conducted, which found that compared to clay litter, Naturally Fresh's walnut shell-based litter generates nearly 42% fewer fossil fuels, uses 97% fewer mineral resources, and emits 130% fewer greenhouse gasses (with carbon uptake from walnut trees) during production.
2nd Annual Gotcha Day Helps Thousands of Cat Kids Find Homes
Naturally Fresh Cat Litter, a leading eco-friendly cat litter brand, celebrated the "kitten season" of summer with their 2nd annual Gotcha Day initiative. Coming off last year's successful summer-long event, Naturally Fresh set their sights on how to make this year's Gotcha Day celebration even bigger. Inviting cat parents from across the country to join in on the fun