Pellet Formula
Have a cat kid, puppy, rabbit, gerbil, or ferret? This is the non-clumping pellet litter for your household with up to 7 times more odor control than other leading non-clumping pellet litters.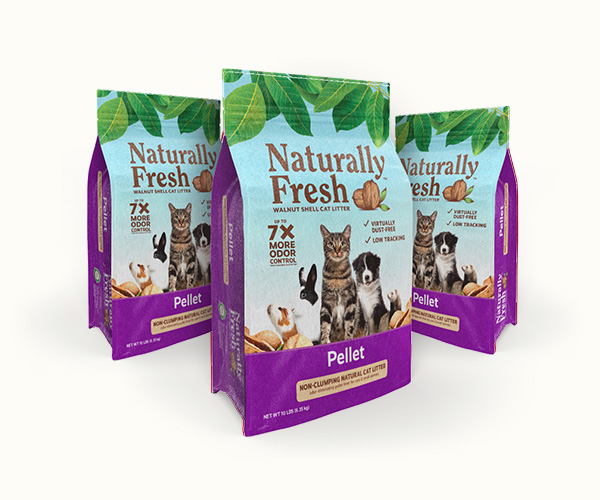 "I have four cats and the smell of urine and clay litter was overwhelming. I wanted to try out a new litter so I chose these walnut pellets (...) THIS STUFF IS AWESOME!"
– Rebecca, Petco.com
See More Reviews
Up to 7x More Odor Control
Our all-natural pellet litter neutralizes odors significantly more than the competition. That's because walnuts have the natural ability to neutralize pellet litter box smells better than clay, pine, corn, and wheat litters. Hello, best litter for smell. Goodbye, smells.
Virtually Dust-Free and Low Tracking
Unlike clay litters, our eco-friendly litter contains no harmful silica dust – so you and your pet children can breathe easy. Soft on paws, it's also cat litter that doesn't stick to paws, so it won't be tracked through your home. And because our pellet litter is non-clumping, biodegradable, and compostable, cleanup is especially easy.
The Go-To Eco-Friendly Cat Litter

All natural and sustainable
Made from walnut shells grown in northern California, Naturally Fresh is 100% biodegradable, compostable, and annually renewable.

No toxins, no worries
Made without any harmful ingredients, Naturally Fresh is safe for you, your cat kid, and the environment.
Litter box smell hacks
Scoop the litter box at least once a day.
Don't forget to refill your litter after scooping. We recommend maintaining three inches of Naturally Fresh litter so that your cat kid can cover the waste.
Use the non-clumping Pellet formula to eliminate odors 7x more than the other leading non-clumping formulas.
Clean and sanitize your litter box at least once per month and keep it in a well-ventilated area to keep your litter box from smelling.
Ensure there is one box per cat, plus one extra. Example: two cats, three boxes.
How to use our eco-friendly cat litter
Fill a clean litter box with three inches of Naturally Fresh.
For our clumping litters, remove clumps and solid waste at least once a day.
For our non-clumping pellet litter, skim out the solid waste daily. Then gently shake the litter box side to side or mix with a scoop to blend any recently used moist litter with dry litter.
Add more litter as needed to stay at the ideal level of three inches.
To keep things fresh and healthy for your cat kid, clean and sanitize your litter box every 30 days.
Based on a single-cat household, Naturally Fresh should last at least 30 days between changes, or as needed, for odor control.
Transitioning your cat litter to Naturally Fresh
Place one to two inches of Naturally Fresh in a clean litter box.
Top it off with enough of your current cat litter to cover Naturally Fresh.
Each time you change the litter, reduce the amount of your current litter and increase the amount of Naturally Fresh.
It typically takes one or two changes for most cats to be comfortable with a new litter.
Note: Wash hands thoroughly after handling used cat litter. Cat feces may carry parasites that can cause toxoplasmosis. Those who are pregnant or have suppressed immune systems should avoid contact with used cat litter.
Find the formula that fits your family.