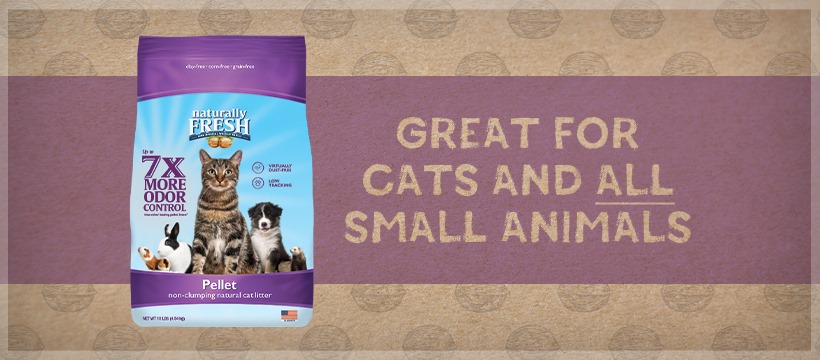 Naturally Fresh Cat Litter Expands Pellet Litter Profile
Non-clumping pellet formula ideal for cats and all small animals
(November 6, 2019) Corning, Calif. - Naturally Fresh Cat Litter today announced the availability of their Pellet Formula for ALL small animals. Due to overwhelmingly positive feedback about the litter's performance for animals beyond just cats, the brand is now expanding the offering. The non-clumping litter controls up to 7x more odor than other leading non-clumping litters and is ideal for small animals such as gerbils, rabbits, ferrets and puppies.
"Through the great feedback we've gotten about our pellet formula from pet owners and animal shelters, we realized something: our non-clumping litter doesn't just perform well for cats. It's also ideal for small animals," said Helen Cantrell, director of marketing and sales for Naturally Fresh Cat Litter. "In lab tests, our non-clumping litters have been found to neutralize ammonia odors better than other types of non-clumping litters including clay, pine, corn and wheat. We are thrilled to provide owners and caretakers of small animals with the peace of mind that comes from superior odor control and an all-natural, eco-friendly formula."
Naturally Fresh Pellet Litter absorbs three times better than clay litter, is low tracking and virtually dust-free. It is also all-natural and biodegradable, which means it safe for pets, their owners and caretakers, and the environment. The product is available in 10-pound bags.
Naturally Fresh is made with a proprietary blend of the fibrous materials found inside walnut shells (grown in the USA). Walnut shells have a natural ability to control ammonia odor, making Naturally Fresh the perfect choice for consumers looking for a natural, environmentally-friendly brand that outperforms the competition.
Naturally Fresh is sold in pet stores in the U.S. and Canada, and offers seven varieties of litter options including quick-clumping, multi-cat clumping and ultra-odor control. For more information about all of Naturally Fresh's products, visit NaturallyFreshLitter.com.
About Naturally Fresh
Based in Corning, Calif., ECO-SHELL, maker of the Naturally Fresh family of products, produces all-natural, environmentally-friendly cat litter made with a proprietary blend of the fibrous materials found inside walnut shells. Founded in 2010, Naturally Fresh products use a blend derived from walnut shells grown in California by Crain Walnut Shelling, Inc., a family-owned producer, packer and processor of quality English Walnuts for over a half-century.
The Naturally Fresh formula absorbs three times better than clay litter, is low tracking and free of silica dust. The litters are also sustainable, biodegradable and free of perfumes.
---
More Stuff You'll Love
Dealing with Dust? Meet the Best Low Dust Cat Litter.
Unless your cat kids have taught themselves to use the toilet, cat litter is a necessity. And while it has multiple conveniences, it also has a couple of drawbacks, particularly if it's a dusty cat litter. If you're wondering how to control cat litter dust or are looking for a low dust cat litter, read on to learn why Naturally Fresh makes the best cat litter for dust control.
To Flush or Not to Flush?
Whether you have one cat kid or a house full of them, you know that even the most fastidious one isn't thinking of how to dispose of used cat litter. As a pet parent, you're the one cleaning up. But after you scoop, do you store litter in a plastic bag before taking it to the dumpster? Can you flush