Naturally Fresh Partners with Shelters in Seattle and Portland to Encourage and Reward Cat Adoptions During Kitten Season
(June 1, 2021) Corning, Ca.
It's kitten season and Naturally Fresh Cat Litter is partnering with animal shelters in Seattle and Portland to make the cat adoption process a little easier for prospective cat parents while also donating to partner shelters. The "Gotcha Day" initiative – named after the memorable day a shelter pet is adopted – is encouraging and rewarding cat adoptions by offering free New Cat Parent Adoption Kits as well as matching adoption fees with donations to partner shelters now through July. This initiatiive aligns with the key months of kitten season and American Humane's Adopt-a-Cat Month™ and ASPCA's Adopt-a-Shelter-Cat Month in June.
"Kitten season is the most important time of the year to highlight and encourage cat adoptions and that is why we are so committed partnering with the four key animal shelters in the Northwest,"" said Helen Cantrell, Director of Marketing and Sales. "At Naturally Fresh, we pride ourselves on making litter that's good for cats and the planet and now offers new cat parents one less thing to worry about."
Free New Cat Parent Adoption Kits
Now through July, all new cat adoptions at participating shelters will receive a free New Cat Parent Adoption Kit, which includes a 14lb bag of Naturally Fresh litter, eco-friendly cat care ideas, and more. Along with the adoption promotion, Naturally Fresh will offer a $5 coupon with each adoption at these shelters to help with the next purchase of a Naturally Fresh formula. Also included will be pet parent pro tips and education materials for new cat owners.
Participating Animal Shelters and Donations
Naturally Fresh is is working with four shelters in the two markets: Seattle Humane Society, Seattle Area Feline Rescue, Oregon Humane Society, and The Pixie Project to provide free bags of litter to all cat adopters now through July. The company will also make a contribution to all four shelters for cat adoptions taking place in this two-month period. Naturally Fresh will be donating litter for usage at the shelters and in foster homes in hopes that there will be less of a litter transition for newly adopted cats and kittens.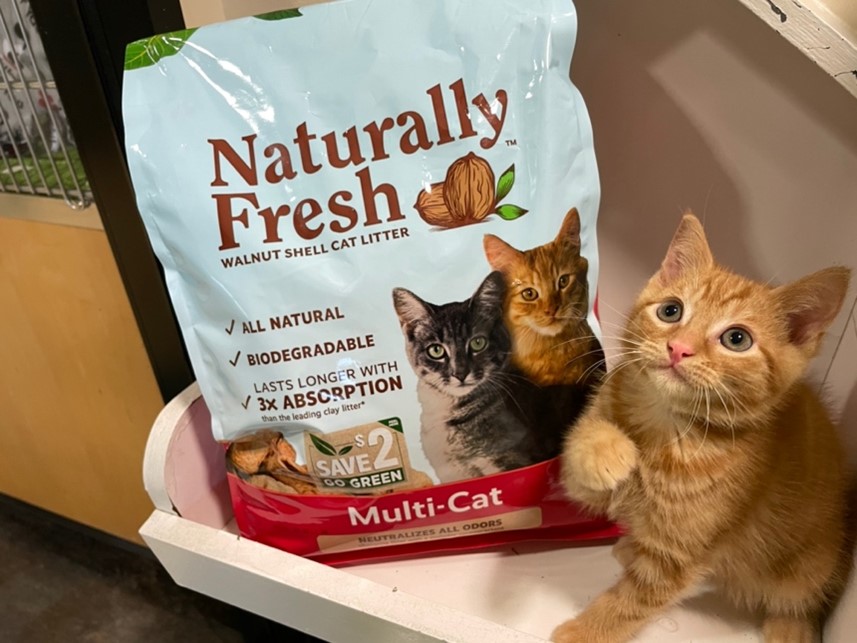 In addition to the "Gotcha Day" program, Naturally Fresh supports local shelters nationwide throughout the year. After giving away over 185,000 pounds of cat litter to local shelters in 2020, Naturally Fresh enters 2021 with a goal of giving away 250,000 pounds to shelters across the country throughout the year.
About Naturally Fresh
Based in Corning, Calif., ECO-SHELL, maker of the Naturally Fresh family of products, produces all-natural, environmentally-friendly cat litter made with a proprietary blend of the fibrous materials found only inside walnut shells. Founded in 2010, Naturally Fresh products use a blend derived from walnut shells grown in California by Crain Walnut Shelling, LP, a family-owned producer, packer and processor of quality English Walnuts for over a half-century. The Naturally Fresh formula has proven superior odor control, absorbs three times better than clay, is low tracking, and free of silica dust. The litters are also sustainable, biodegradable and free of perfumes.
---
More Stuff You'll Love
Biodegradable + Compostable + Sustainable: Meet the Natural Litter That's All Three
If you're looking for the best natural cat litter for your interspecies family, you probably have a checklist that includes more than just litter box odor control and low dust, low tracking cat litter. High on most eco-friendly cat litter checklists: a cat litter that's biodegradable, compostable, and sustainable. Read on to learn how Naturally Fresh Cat Litter checks all three boxes — and why we've made it our mission to create a walnut shell cat litter that's good for you, your cat kid, and our shared world.
Dog eating cat litter? Find out what to do about it.
As a pet parent, you share your home with four-legged children who do some adorable things — cuddling on your lap while watching TV with you, greeting you at the door with a happy howl, purring gently in your face to wake you up. But not all of their behaviors are quite so cute. If you have a cat and a dog and have ever wondered, "Why is my dog eating cat poop?"
Cat Kid Questions? Meet a Vet with Answers.
If you've ever wondered why your cat kid does the things she does, like stalk the red dot of the laser pointer or commandeer any and every cardboard box in the vicinity, you're not alone. We rounded up some of Google's most commonly searched questions pet parents ask their vet