Naturally Fresh Enhances Its Multi-Cat Formula
Newly improved product neutralizes both urine and fecal odors
(August 22, 2019) Corning, Calif. – Naturally Fresh Cat Litter today announced the availability of their new Multi-Cat formula. The improved formula now neutralizes all odors — perfect for households with multiple cats.
The new Multi-Cat formula is fragrance-free, eliminates both urine and fecal odors and creates tight clumps quickly, making scooping a breeze. As with all Naturally Fresh products, the formula absorbs three times better than clay litter, is low tracking, free of silica dust and is biodegradable and annually renewable. It is non-GMO and nontoxic safe for pet parents, cat kids and the environment. Available in 14 and 26 pound bags, the product boasts Naturally Fresh's signature soft walnut shell granules.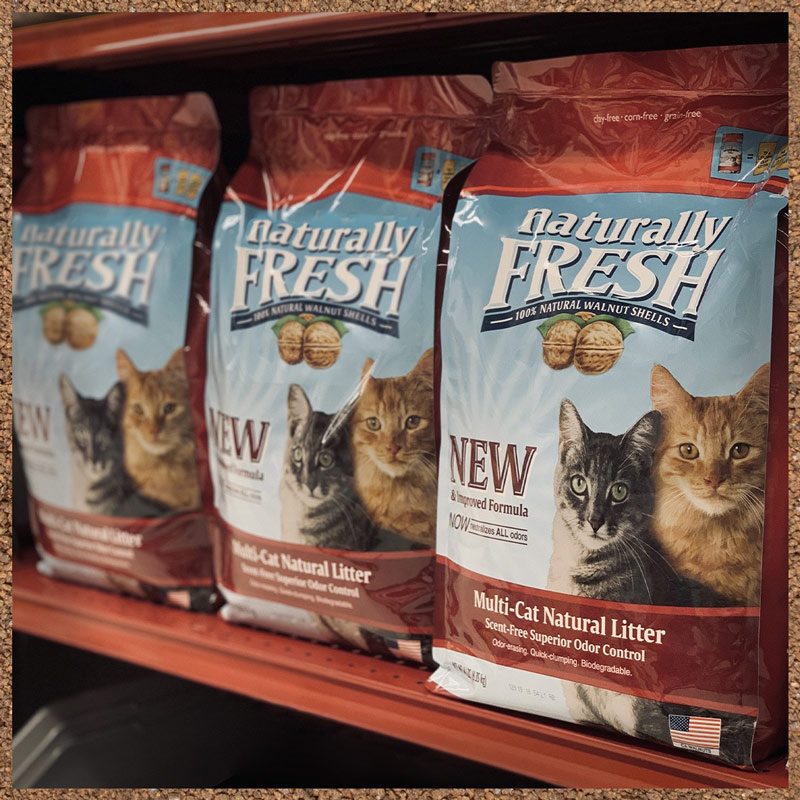 "We want pet parents to love their cats, not smell them," said Helen Cantrell, director of marketing and sales for Naturally Fresh Cat Litter. "When we designed our new Multi-Cat product, we wanted to enhance the Naturally Fresh formula our customers — and their cat kids — know and love and make it even better. This exciting new offering reflects our commitment to continued innovation and customer satisfaction."
One of the fastest growing litters in the pet specialty channel, Naturally Fresh is made with a proprietary blend of the fibrous materials found only in walnut shells (grown in the USA). Walnut shells have a natural ability to control ammonia odor, making Naturally Fresh the perfect choice for consumers looking for all-natural, environmentally-friendly brand that outperforms the competition.
---
More Stuff You'll Love
Dealing with Dust? Meet the Best Low Dust Cat Litter.
Unless your cat kids have taught themselves to use the toilet, cat litter is a necessity. And while it has multiple conveniences, it also has a couple of drawbacks, particularly if it's a dusty cat litter. If you're wondering how to control cat litter dust or are looking for a low dust cat litter, read on to learn why Naturally Fresh makes the best cat litter for dust control.
To Flush or Not to Flush?
Whether you have one cat kid or a house full of them, you know that even the most fastidious one isn't thinking of how to dispose of used cat litter. As a pet parent, you're the one cleaning up. But after you scoop, do you store litter in a plastic bag before taking it to the dumpster? Can you flush