Meet Our New Packaging
What's new
The formula name and description on the front of the bag helps you easily identify and differentiate between Naturally Fresh formulas. Detailed product information on the back helps you choose the best formula for your cat kids.
Our new bags have a more natural look, which aligns well with our eco-friendly litter. Our refreshed logo features our signature walnuts, which puts our main ingredient — and natural litter differentiator— in the spotlight. Our Quick-Clumping (green bag), Multi-Cat (red bag), Ultra Odor Control (yellow bag), and Alpine Meadow Scent (blue bag) formulas sport the new look.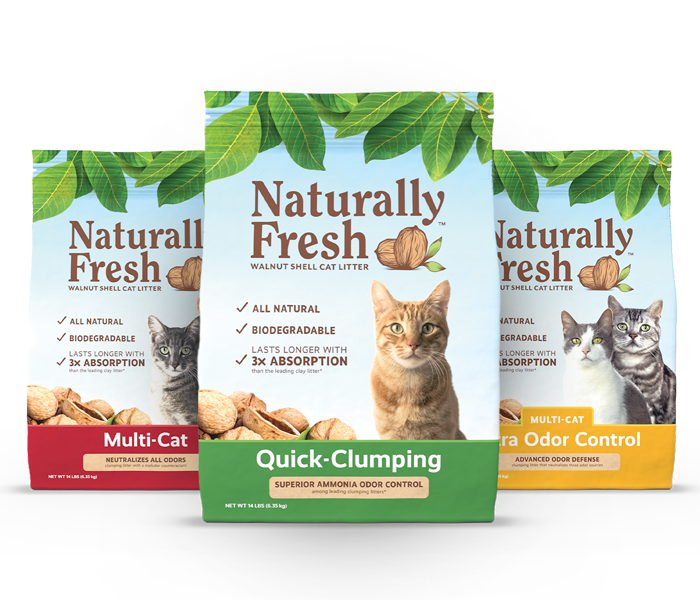 What's stayed the same
The litter inside is the same biodegradable litter you trust, and your cat kid loves! No matter what formula you choose, you'll find our litter eliminates odors organically, forms tight clumps, is low-tracking and free of harmful silica dust. Your cat kid will still have a litter that's soft on their paws, non-toxic, and free of perfumes. What else has stayed the same? Those photogenic cats on the front of each bag, so loyal cat parents can quickly recognize their go-to formula.
Why we made changes
We love all things natural, so we wanted our new packaging to reflect our brand and product more accurately. It's why we added more walnut details to help us tell the story of our main ingredient — biodegradable walnut shells that organically neutralize odors. Since 2010, we've been making our walnut shell litter from walnuts grown in California by the family-owned Crain Walnut Shelling, Inc. We eliminate waste by utilizing the shell to create our litter and produce it in a solar-run facility. It's all so that we can make a litter that's good for cats, people, and the planet.
We love knowledge just as much as we love nature. It's why we included more specific information about our various formulas on our new bags, all of which speak to a cat's natural instincts to bury their business in nature. We know you love your cat kids and want to provide the litter that's best for them; now it's even easier for you to find the formula that fits, whether you have one cat kid, four cat kids, or more.
What's coming next
This is just the beginning for the new Naturally Fresh look. We're rolling out these four bags now and we'll follow with our Pellet (purple bag) and Herbal Attraction (orange bag) formulas in the near future.
It's important to us that our eco-friendly, biodegradable litter is in packaging that's also better for the planet. We've been actively testing post-industrial recycled materials for our bags since we decided to refresh our look. We're committed to sustainable, eco-friendly practices and we look forward to introducing packaging that includes recycled content. Keep an eye out for more updates as we have them to share!
---
More Stuff You'll Love
Tips for Adopting a New Cat or Kitten
With 2020 kitten season coming to a close, it's a great time to consider adding a new cat to your family. If you're thinking about adopting a new cat, you may have a few questions about how to welcome him/her into your home. We've got some tips that will help turn a tricky process into a smoother transition for all.
Ideas for Spending Quality Time with Your Cat
It can be easy to fall into the same routines when it comes to playtime. Routines are great and all, but it's healthy to find ways to change it up from time to time. We've put together a list of out-of-the-box possibilities for playtime with your cat kid.
Ways to Practice Eco-Friendly Cat Care
There is no other cat quite like yours. And we know you want to care for your one-of-a-kind cat kid in the best way possible. One way to enrich your cat's life is by using natural, eco-friendly products.