2nd Annual Gotcha Day Helps Thousands of Cat Kids Find Homes
Seven Animal Shelters, Over $20,000 in Matched Adoption Fees, One Grand Prize Sweepstakes Winner, and Thousands of Cats Adopted
Naturally Fresh Cat Litter , a leading eco-friendly cat litter brand, celebrated the "kitten season" of summer with their 2nd annual Gotcha Day initiative. Coming off last year's successful summer-long event, Naturally Fresh set their sights on how to make this year's Gotcha Day celebration even bigger. Inviting cat parents from across the country to join in on the fun, Naturally Fresh hosted a sweepstakes for the chance to win free vet care for one year, 1,000 pounds of litter donated to their favorite shelter or rescue, and more. The initiative was expanded to include seven well-deserving shelters throughout four major U.S. markets (Seattle, Portland, Phoenix, and Denver), increasing the matched adoption fees donation to over $20,000.
June and July mark the months of "kitten season", one of the busiest times of the year for animal shelters. The Gotcha Day initiative, named after the memorable day a shelter pet is adopted, encouraged and rewarded cat adoptions by offering free New Cat Parent Adoption Kits, including a free bag of litter, throughout the two summer months. As June marked the month for American Humane's Adopt-a-Cat Month™ and ASPCA's Adopt-a-Shelter-Cat Month, this initiative aligned perfectly to unite as many adopters as possible with cat kids in need of a forever home.
"As the busiest time of year for animal shelters and rescues with cats, kitten season is near and dear to our hearts. There's always more we can do, which is why we wanted to expand our efforts to seven key animal shelters this year and introduce a national sweepstakes," said Helen Cantrell, director of marketing and sales. "At Naturally Fresh, we put the health and happiness of cats and their owners at the forefront, whether that is through producing litter that's safe for cats, their owners, and the planet, or supporting shelters with the litter and educational tools new cat parents need, we're honored to be a part of helping 2,797 cats find their new forever homes this year."
New Cat Parent Adoption Kits
Throughout June and July, all new cat adoptions at participating shelters received a free New Cat Parent Adoption Kit, which included a bag of Naturally Fresh litter, eco-friendly cat care ideas, pet parent pro tips, and more. Along with the bag of litter, Naturally Fresh offered a $5 coupon with each adoption at these shelters. Shelters will continue to distribute bags of litter to cat adopters until there are none remaining.
The Stats
Total adoptions: 2,797
Pounds of litter to shelters and adopters: 30,000+
Adoption fees matched: $22,500
The Sweepstakes
This year, Naturally Fresh introduced a new element to the Gotcha Day celebration - a national sweepstakes for cat parents to share their own Gotcha Day story and how their cat kid has upgraded their lives. By sharing their stories, cat parents were entered for the chance to win a variety of prizes. Out of approximately 2,500 entries, Tim K. from Ohio won the grand prize of free vet care for one year (up to $2,000 value), a cat health package, and 1,000 pounds of litter donated to his favorite shelter or rescue, S.T.O.P Cat Shelter and Spay/Neuter Clinic . Below is Tim's Gotcha Day story and a photo of his cat kid, Bella. Five 1st runner-up winners were randomly selected to receive a one-year subscription to KitNipBox, one bag of Naturally Fresh every month for six months, and one Naturally Fresh shirt. Fifty 2nd runner-up winners were randomly selected to receive one coupon for a free bag of Naturally Fresh.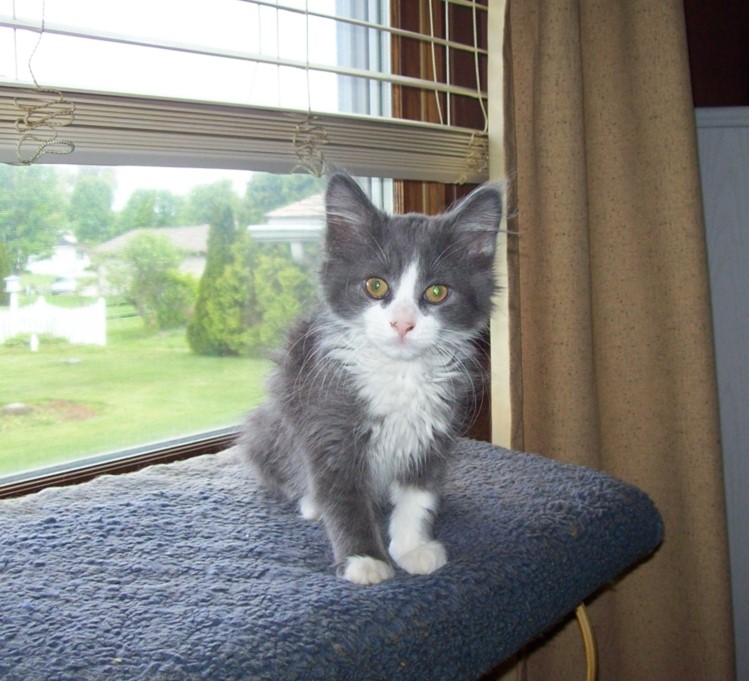 Bella brought us joy, laughter and love at a time of significant loss. She continues to show us unconditional love and we can't imagine not having her in our lives!
Participating Animal Shelters and Donations
Naturally Fresh worked with seven shelters across Seattle, Portland, Phoenix, and Denver markets: Seattle Humane Society, Seattle Area Feline Rescue, Oregon Humane Society, The Pixie Project, Humane Society of Boulder Valley, Fearless Kitty Rescue, and Home Fur Good. Naturally Fresh donated litter for use at the shelters and in foster homes in hopes that there would be less of a litter transition for newly adopted cats and kittens.
Over the past two years, Naturally Fresh has donated over 370,000 pounds of litter to support local shelters and rescues nationwide.
About Naturally Fresh
Based in Corning, Calif., Eco-Shell, maker of the Naturally Fresh family of products, produces all-natural, environmentally-friendly cat litter made with a proprietary blend of the fibrous materials found only inside walnut shells. Founded in 2010, Naturally Fresh products use a blend derived from walnut shells grown in California by Crain Walnut Shelling, Inc., a family-owned producer, packer, and processor of quality English Walnuts for over a half-century. Naturally Fresh has proven superior odor control, absorbs three times better than clay, is low tracking, and free of silica dust. The formulas are also sustainable, biodegradable, and free of perfumes. For more information, visit NaturallyFreshLitter.com.
---
More Stuff You'll Love
Naturally Fresh: The Best Cat Litter for Odor Control
When it comes to litter box odor control, walnut shells don't usually spring to mind. Naturally Fresh is changing that. If you've ever wondered how to neutralize ammonia in cat litter the fresh and natural way, look no further than our eco-friendly formulas.
Naturally Fresh Proves Environmental Impact of Walnut Shell Litter
In collaboration with the Pet Sustainability Coalition (PSC), a peer-reviewed Life Cycle Analysis (LCA) study was conducted, which found that compared to clay litter, Naturally Fresh's walnut shell-based litter generates nearly 42% fewer fossil fuels, uses 97% fewer mineral resources, and emits 130% fewer greenhouse gasses (with carbon uptake from walnut trees) during production.