Up to 7x the Odor Control of Leading Non-Clumping Litters**
Made from a proprietary blend of the fibrous materials from the walnut shell, Naturally Fresh litter is laboratory-tested to have up to 2.5-7x the odor control of other pellet litters.
Low Tracking and Virtually No Dust
Unlike clay litters, which often throw off silica dust, Naturally Fresh is virtually dust-free so you and your cat can breathe easier! And because it doesn't stick to your cat's paws, it won't be tracked throughout the house.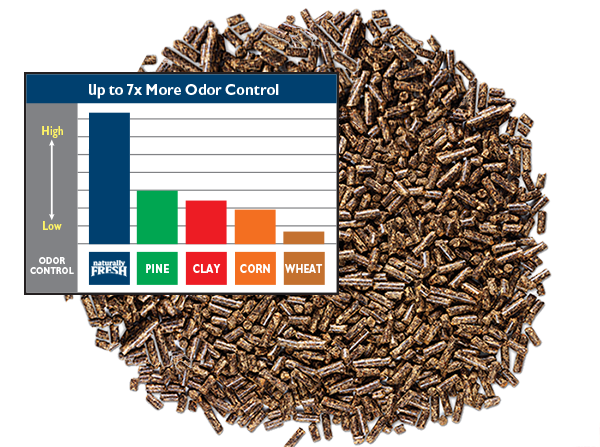 All Natural and Eco-Friendly

All-natural and annually renewable.
All natural and biodegradable†, Naturally Fresh is made from walnut shells, an annually renewable non-food agricultural product.

NO toxins, NO worries.
Made without any harmful ingredients, Naturally Fresh is safe for you and your cat or kitten.
Instructions for Use
Fill clean litter box to the recommended level of 3" of Naturally Fresh Natural Training Quick-Clumping Litter.
Naturally Fresh Natural Training Quick-Clumping Litter forms an easily removable clump of waste when wet. Remove with a scoop and discard according to your local regulations.
Maintain by removing clumps and solid waste daily. Add more litter, as needed, to maintain 3" depth.
It is recommended that you clean and sanitize your litter box every 30 days to maintain a fresh and healthy litter box for your cat.
Based on a single-cat household, Naturally Fresh Quick-Clumping Litter should last at least 30 days between changes, or as needed, for odor control.
TRANSITIONING YOUR LITTER TO NATURALLY FRESH
Start by placing one to two inches of Naturally Fresh Natural Training Quick-Clumping Litter in a clean cat litter box.
Top dress with enough of your current cat litter to cover Naturally Fresh Natural Training Quick-Clumping Litter.
Each time you change the litter, reduce the amount of your current litter.
It typically takes one or two changes for most cats to be comfortable with a new litter. Repeat reducing the amount of your current litter if needed.
Note: Wash hands thoroughly after handling used cat litter. Cat feces sometimes carry parasites that can cause toxoplasmosis. Pregnant women and people with suppressed immmune systems should avoid contact with used cat litter.
** In an independent study, Naturally Fresh Non-Clumping Pellet litter was found to: (i) control ammonia odors better than the leading non-clumping litters.